An organic light-emitting diode (OLED) is a light-emitting diode (LED) in which the emissive electroluminescent layer is a film of organic compound which emits light in response to an electric current. This layer of organic semiconductor is situated between two electrodes; typically, at least one of these electrodes is transparent. OLEDs are used to create digital displays in devices such as television screens, computer monitors, portable systems such as mobile phones, handheld game consoles and PDAs. A major area of research is the development of white OLED devices for use in solid-state lighting applications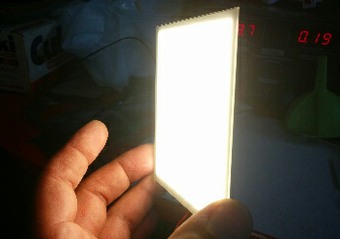 OLED è l'acronimo di Organic Light Emitting Diode ovvero diodo organico a emissione di luce.
Tecnologia che permette di realizzare display a colori con la capacità di emettere luce propria: a differenza dei display a cristalli liquidi, i display OLED non richiedono componenti aggiuntivi per essere illuminati (i display a cristalli liquidi vengono illuminati da una fonte di luce esterna), ma producono luce propria; questo permette di realizzare display molto più sottili e addirittura pieghevoli e arrotolabili, e che richiedono minori quantità di energia per funzionare.
A causa della natura monopolare degli strati di materiale organico, i display OLED conducono corrente solo in una direzione, comportandosi quindi in modo analogo a un diodo; di qui il nome di O-LED, per similitudine con i LED.